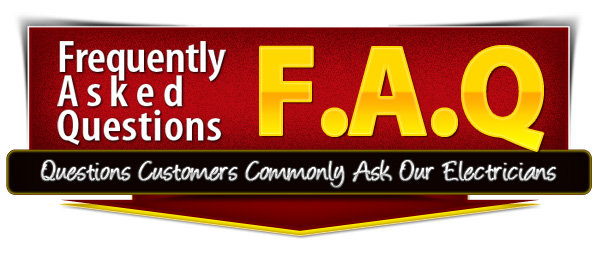 Q: WHAT IS YOUR HOURLY RATE?
A: The types of service that may be required can require different types of electricians. At Cosmos Electrical Company we focus on value for per job, so we have a flexible rate to match the appropriate electrician for the type of service required.  We can't quote you over the phone accurately; we can quote you at the job prior to beginning any work.
Q: ARE YOU LICENSED AND INSURED?
A: Cosmos is a licensed and insured electrical company with a clean record of operation. We've been in business for nearly 40 years with no claims, and no accidents or injuries.
Q: IS YOUR WORK GUARANTEED?
A: Yes all work done by Cosmos is backed up by our worry free warranty.  Click Here for Warranty Information
Q: HOW SOON CAN I GET HELP?
A: Cosmos has the finest technicians ready to assist you with emergencies, and service calls. For emergencies we can offer same day service, or otherwise the next business day. Call us and we will find a time that works for you.
Q: DO I NEED TO BE HOME?
A: You are not required, however we encourage you to be at home while we are working for any questions about your home, and to ensure your home is safe and secured when we leave. For ease and comfort, Cosmos Electrical Company works with your schedule, so you pick the time that works for you.
Q: AM I GOING TO BE WITHOUT POWER?
A: We will do our best to not have any power interruptions, however in some rare circumstances may require us to disconnect power. Cosmos can provide a generator to energize any vital circuits for fridges, computers, communication etc . We will discuss this with you before any disconnection to be sure it's the right time for you.