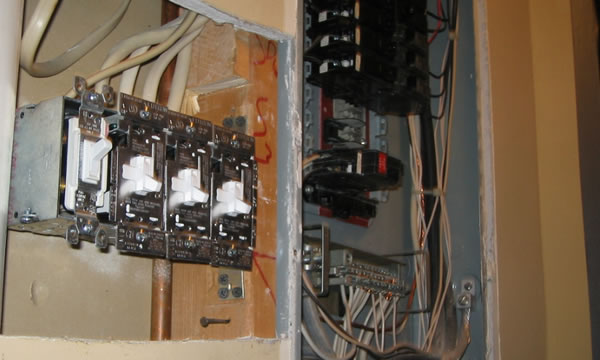 Have you been told you need to upgrade your main panel in your home or building?  It's not uncommon for an older home or building to outgrow their old panel with all of the circuits maxed out.  In other cases you may wish to go from standard 100 amp service and upgrade to a 200 amp panel for a shop or large home.
Cosmos Electrical Co. is a full service electrical contractor serving the Greater Toronto Area.  One of the areas our electricians have a lot of experience with is main panel upgrades, replacements and electrical service upgrades.  With over 37 years of electrical experience we can solve your most complex panel upgrades and service upgrades.
Upgrading From 100 amp to 200 amp Service
If you have a large home, shop or you've just outgrown your current power supply then it's time for a "service upgrade".  In addition to upgrading your electric panel (breaker panel) you'll also need to upgrade the meter socket, along some extensive (and possibly expensive) wiring upgrades to handle the incoming power.
Upgrading your service can solve many of your electrical problems related to overloaded circuits.  If you're using lots of power you need to have the system it can run through efficiently.  When it comes to electrical hardwear in your home or building it's always a good idea to buy quality.  This lessens the risk of an electrical failure, that could potentially be catastrophic (in the case of fire).  If you have a panel made by Zinsco or FPE they are considered to be very unreliable and in some cases unsafe to have in your home.  Many professionals (including us) will recommend you replace these old and outdated panels if you have them.
Panel Upgrades and Service Upgrades:
Main Panel Replacement/Upgrade
Sub Panel Replacement/Upgrade
Transfer Switch Installations
100 amp to 200 amp service Upgrades
At Cosmos Electrical Co. we only use high quality panels when we upgrade and replace the panel in your current electrical system.  You will be protected by our 1, 3, or 5 year warranty (read more here).  When you choose Cosmos Electrical Co. to replace your panel or upgrade your electrical service we'll make sure your electrical system exceeds the standards of other electricians.  You'll be happy with our work!